30x60 Terry Velour Promotional Beach Towel
4632078 - Available Colors: Black, White, Burgundy, Caribbean Blue, Hunter Green, Lime Green, Navy Blue, Sunshine Yellow, Tan, Neon Pink, Neon Yellow, Orange, Purple, Royal Blue, Salsa Red, Turquoise, Athletic Gold, Cool Gray (PASTEL Collection), Lavender (PASTEL Collection), Mint (PASTEL Collection), Baby Pink (PASTEL Collection) - Minimum Order: 12 pieces
$8.90
Price for Blank Item Only
30x60 Terry Velour Promotional Beach Towel 11 Lb per Oz. (4632078)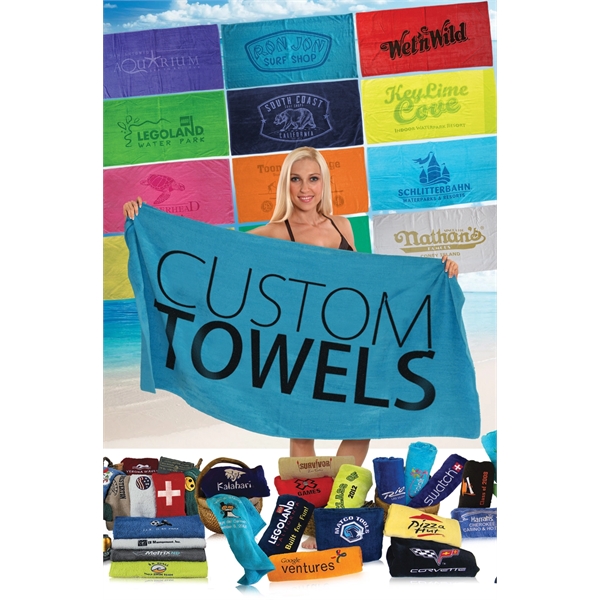 Product Name
30x60 Terry Velour Promotional Beach Towel 11 Lb per Dz.
Description
30x60 Beach towel with one side velour. This is our best selling promotional beach towel , available in21 colors. This towel weighs 11.0 lbs. per dozen and has a nice dobby border finish. This is a great towel if you are buying quantities and are looking to save money.
Color
Black, White, Burgundy, Caribbean Blue, Hunter Green, Lime Green, Navy Blue, Sunshine Yellow, Tan, Neon Pink,Neon Yellow, Orange, Purple, Royal Blue, Salsa Red, Turquoise, Athletic Gold, Cool Gray (PASTEL Collection), Lavender (PASTEL Collection), Mint (PASTEL Collection), Baby Pink (PASTEL Collection)
Imprint Method
Embroidery, Silkscreen, Unimprinted. Set-up Charge: Silkscreen - $93.75, Digitizing Charge: Embroidery- $43.75
Imprint Option(s)
Higher stitch count is available call for questions., Blank, Embroidery, Silkscreen, Smaller Imprint15x15. Imprint Charge, Imprint Charge
Blank
Quantity
12
24
72
144
Price
8.90
7.47
6.76
6.40
Price Includes
Blank product only. (See embroidery and printing options below).
---
Don't see what you are looking for?
Identity Imprinted Apparel has access to thousands more items that are not listed on our website. Let us know if you are looking for something specific. We can provide custom screen printing and embroidery - no matter the size of your order.
Call us at
(859) 342-5300
if you have questions or are are looking for something specific.
More Information

| | |
| --- | --- |
| Product Name | 30x60 Terry Velour Promotional Beach Towel |
| SKU | 4632078 |
| Brand | N/A |
| Fit Style | N/A |
| Available Sizes | N/A |
| Available Colors | Black, White, Burgundy, Caribbean Blue, Hunter Green, Lime Green, Navy Blue, Sunshine Yellow, Tan, Neon Pink, Neon Yellow, Orange, Purple, Royal Blue, Salsa Red, Turquoise, Athletic Gold, Cool Gray (PASTEL Collection), Lavender (PASTEL Collection), Mint (PASTEL Collection), Baby Pink (PASTEL Collection) |
| Product Measurements | N/A |