15 oz. Two Tone Matted Bistro Mug
551813475 - Available Colors: Multi color - Minimum Order: 12 pieces
$3.29
Price for Blank Item Only
15 oz. Two Tone Matted Bistro Mug (551813475)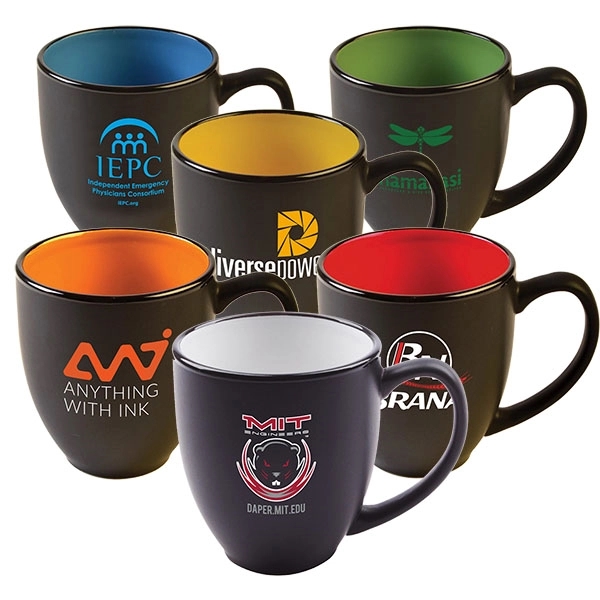 Product Name
15 oz. Two Tone Matted Bistro Mug
Description
This hard-coated 15 oz. Two Tone Matted Bistro Ceramic Mug measures 4-1/4" (height) x 3-1/8" (rim) x 2-1/4"(base). It makes the perfect keepsake for almost any business or occasion! Customize with a silkscreen imprint within a 3" x 1.75" surface and hand out at your next event! This versatile promotional product is ideal for businesses within all typesof industries! Available in Black Matte/Orange.
Imprint Method
Unimprinted, Silkscreen. Imprint Method Charge: Silkscreen - $50.00
Imprint Color(s)
standard colors, Various colors
Imprint Option(s)
PMS match charge. Imprint Option Charge: PMS Match Charge - $12.50
Additional Colors/Locations
Additional Colors/Locations. Add. Color Charge: Additional Color - $1.00
15 oz White Bistro Mug
Quantity
72
144
288
576
Price
3.29
3.09
2.99
2.89
Price Includes
1 color, 1 location imprint
---
Don't see what you are looking for?
Identity Imprinted Apparel has access to thousands more items that are not listed on our website. Let us know if you are looking for something specific. We can provide custom screen printing and embroidery - no matter the size of your order.
Call us at
(859) 342-5300
if you have questions or are are looking for something specific.
More Information

| | |
| --- | --- |
| Product Name | 15 oz. Two Tone Matted Bistro Mug |
| SKU | 551813475 |
| Brand | N/A |
| Fit Style | N/A |
| Available Sizes | N/A |
| Available Colors | Multi color |
| Product Measurements | N/A |